Welcome |Supporting our customers| Managing our homes| Delivering Homes| Making the most of our money| Our response to coronavirus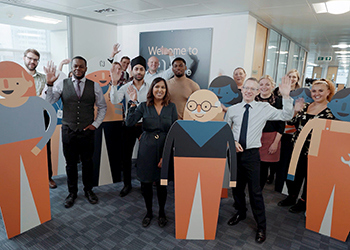 Our culture and values are built around professionalism, delivery, mutual respect and ambition to help us in our shared goal of providing homes and services that deliver value for money and value to society, backed by the skills, experience, motivation, health and wellbeing of our staff.
We want an inclusive workplace where everyone feels valued. This means nurturing a culture based on our values and mutual trust and respect; developing an approach to talent to help identify those with potential and to promote career pathways. We also put staff wellbeing first, particularly around stress and mental health, and create opportunities for everyone to have their say.
2019/20 highlights
86% staff engagement
13% of employees achieved a promotion or internal secondment
32 staff were funded to undertake a professional qualification
Median gender pay gap was 2.6%
Median gender bonus pay gap 0%.