Welcome | Building affordable homes | Making the most of our money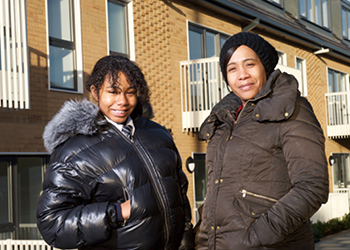 We aim to provide our customers with easy to use landlord services that we get right first time. This means creating homes and communities where our customers feel safe and stay free from harm, as well as supporting them to sustain their tenancies and improve their life chances. 
Our services include keeping homes in good repair, managing tenancies and estates, tackling anti-social behaviour and letting new homes. We also help residents to build skills and get into work, offer money guidance and debt advice and work with local communities to improve neighbourhoods and create opportunities for the people who live there. 
Last year we helped more than 4,000 people find a new home with 1,147 homes being let. In other words, every day we gave eight people a new place to live and helped some get out of unsuitable or temporary accommodation and into a home of their own. We estimate that we help save local authorities £51m a year by moving people out of temporary accommodation. 
2018/19 highlights
Helped more than 4,000 people find a home
Overall customer satisfaction was 81.9%
Customer satisfaction with repairs was at 85.3%
Complaints to Housing Ombudsman were down 14%
The use of digital channels rose to 27%, up from 13% the year before
We installed 1,057 new kitchens and bathrooms.