Welcome to our annual review 2016-17
In this section you can read about our highlights from the past financial year and find links to reports on our financial performance, our social purpose and how we deliver value for money.
We are celebrating our 50th anniversary in 2017. Over the five decades since Hyde Housing Association was formed, with the hope of providing four homes a year, we have grown to become one of the UK's largest housing associations, providing easy to use landlord services for 100,000 people living in 50,000 homes across London and the south east of England.
While Hyde has been transformed, we have never lost sight of our founders' original social purpose: to provide great quality homes for people left behind by the market, at prices they can afford to rent or buy and on long tenancies that allow them to improve their life chances.
If we are to realise our ambitions, we need to build homes and create new communities. During the last financial year, we acquired sites for future development and focused on building relationships with organisations that share our vision, including local authorities and development partners, as well as our residents.
We also continued to modernise our core services, to improve our customers' experience and increase efficiencies. We introduced new ways of working and more resident transactions than ever-before were handled online.
We have more to do but are confident we have the drive and determination, plus a solid financial foundation, to achieve our ambitions. We look forward to the years ahead as we work towards providing a great home for everyone.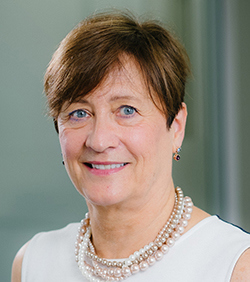 Elaine Bailey, Chief Executive, and Mark Sebba, Chair of the Hyde Group