We are pleased to announce that our proposal to build 242 low cost homes in Coldean Lane was approved at the planning committee on Wednesday 10 July.
Building new low cost homes 
The new homes will be built on council-owned land to the east of Coldean Lane. The site has been identified as suitable for the development of housing in the City Plan.
The homes will be a mix of one, two and three bedroom flats in six and seven storey buildings, making the best use of the sloping 3.3 hectare site. There will also be a number of wheelchair accessible homes on the ground floor. 
Half of the new homes will be available for rent to people on the council's joint housing register, with the other half to buy available as shared ownership homes.  
Listening to residents
Homes for Brighton & Hove held two rounds of consultation with local residents over the summer of 2018 before finalising the plans.
Following concerns raised about parking, the designs were amended to increase the number of spaces from 120 to 162. That offers parking for 67% of the homes - 17% more than vehicle ownership studies recommend.
A car club space has also been added, along with a Brighton Bike share scheme hub, offering shared transport options that can benefit the wider local community.
Changes were also made to the road junction plans to include a right turn filter lane, and two pedestrian crossing islands and 30mph speed signage were added to improve safety on Coldean Lane.
The height and scale of the blocks and number of homes were reduced to improve the visual impact of the site and allow better views from the South Downs. 
The amount of green space and play space and the number of footpaths were also increased.  
Maintaining the habitat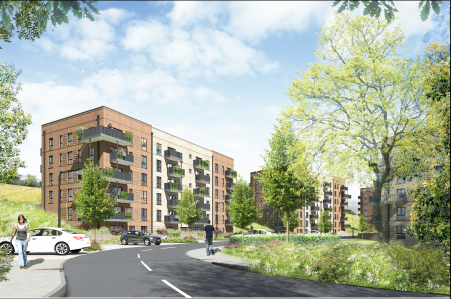 The development will provide more trees and chalk grassland than are currently on the site, offer long-term wildlife management and incorporate large areas of natural habitat.
An ancient woodland will remain untouched and 0.94 hectares of woodland will receive ongoing management to improve the health of the trees and help conserve the woodland.
Fewer trees will be felled than originally planned and they will be replaced with a greater number of new trees.
To improve chalk grassland, 1.6 hectares will be planted with native species – more than the 0.97 hectares lost from the development.
In addition a landscape and ecological management plan provides for the long-term management of habitats, species and other biodiversity features. 
The proposal also offers half a million pounds for parks and gardens, play and indoor sports facilities and more than £200,000 for secondary and sixth form education provision to be spent in the local area.