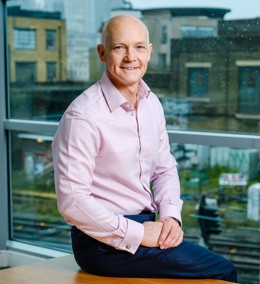 Rod Holdsworth is our Chief Financial and Resources Officer.  His directorate looks after the development and implementation of our strategic plan, and runs organisational change and modernisation projects across the Group. It also includes the teams that support our employees and keep the business cogs turning such as Finance, Facilities; Procurement; HR; Communications; Change and Continuous Improvement and Legal Services.
Finance
Our Finance team manage all revenue control, financial planning and reporting, corporate finance and the treasury.
Change and Continuous Improvement
The Change and Continuous Improvement team manage all major projects within Hyde. From obtaining approval and funding for a new project through to business analysis, project management support and implementation. The team is also responsible for planning Hyde's project pipeline in line with the Corporate Strategy and ensuring all projects are governed effectively.
Facilities
With offices all over the country, our Facilities team has its work cut out. Together, our professionals manage all our facilities, keep them ship-shape and handle the associated contracts. Many Facilities jobs are based within our local offices including Post Room staff, Receptionists, Facilities Managers and Team Leaders.
Procurement
This is where we buy goods and negotiate contracts for the group – everything from stationery and general supplies to building materials and key services. Find out more about our award-winning Procurement team.
Communications
Internally, the Communications team is all about engaging and connecting with our employees  - whether that's through events, campaigns, the intranet, regular briefings or the staff conference.
In the outside world, the team is responsible for maintaining and building Hyde's reputation. They do this by raising the profile of our work and by influencing local and national government policy to our benefit. The team also manages all of our websites and social media channels. Be sure to follow us on Twitter, Facebook and Linkedin.
Human Resources
Human Resources (HR) supports the rest of Hyde in delivering its services, to providing support and expert advice on all aspects of people management - everything from training and pensions, to policy and high-level strategy.
In this team, you'll find a whole host of generalist and specialist HR professionals working to recruit, support and develop our 1,200 staff. These include HR Advisors, HR Administrators, Reward Specialists, Organisation Development Specialists, Transactional Team Leaders, Contact Advisors and HR Business Partners.
Policy
We look after the policies for the business, from landlord services, to health and safety to finance. Making sure that we're doing things right – delivering a quality service to our customers and providing great homes.
Company Secretary and Legal Services
The Company Secretariat makes sure that Hyde's governance arrangements comply with relevant law and regulation, and is a point of communication with our board and committee members. 
Our in-house Legal Services team plays a key role in protecting residents and staff, ensuring we take a consistent approach to legal matters. They provide legal advice on all aspects of housing law and tenancy management.