Our volunteering policy allows staff to take two days paid leave per annum for approved volunteering activities.
In addition to benefiting charities and recipients, the scheme contributes to health and wellbeing at work and offers opportunities for personal or professional development.
Here are some of the great initiatives our staff have been involved in.
James Percival
For the last two years I've volunteered as a primary school governor in North London.  Most of our meetings take place outside of work hours, but Hyde's volunteering scheme gives me the opportunity to visit the school during the day.
On my last visit I spent the day meeting pupils from the School Council and speaking to staff about how the school is run.  When I visit the school I'm always amazed by how much the quality of teaching has improved since I was at school.  If you're interested in education in your local area I'd encourage you to get involved - the school dinners aren't bad either!
Alison Everett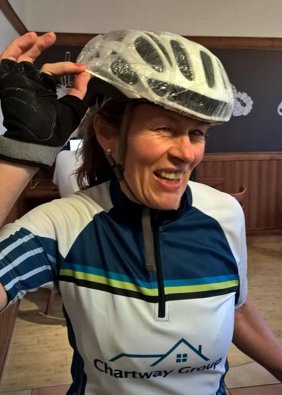 I took part in the Hyde Group London to Paris cycle ride in May 2016 to raise funds for the Hyde Charitable Trust.  This was organised by the Development Team and sponsored by construction company Chartway, Employee Agents Philip Park Partnership, Martin Arnold and Calford Seaton, contractors Rydon, Mulalley and Buxton, and solicitors Devonshires. 
A small number of places were offered to staff who had to apply for these as the other places were paid for by the companies who sponsored the event and raised a substantial amount of money for the Trust.  It was a great experience for everyone and a fantastic achievement, tough but extremely rewarding. We all learned a lot about ourselves and each other, and made some firm friends. 
I used the two days volunteer leave that Hyde provides for all staff, and would recommend everyone takes advantage of this scheme to help themselves help others.