Things like secondments and shadowing are great learning opportunities, giving you the experience and confidence to go for positions you aspire to.

Natalie Nye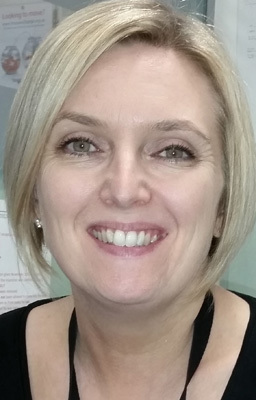 Business Change Lead, Natalie Nye, was one of the first people employed at our office in the centre of Lewisham.
"I was recruited to work on reception and my first role was that of Receptionist. I was called a customer service officer, though its nothing like today's CSOs! I didn't even have my interview there, as they were literally still kitting out Hollingsworth House!"
Natalie started with us in January 1998 having left the NHS where she had been an Outpatients Team Leader. She was looking for a job where she could still help people and it was an added bonus that her new workplace was not too far from home!  We were the perfect fit. And it still works for her today.
"I'm proud of myself: I came in as a receptionist and now I manage a diverse group of skilled people.  In those early days I could never have dreamed I would become a manager because I never really had a plan. I'm lucky it all seemed to fall into place."
After her stint on reception, Natalie was seconded to the role of Lettings Officer which she used as a springboard to her dream job – that of a Housing Officer at Hyde's Thamesmead office.
"When I became a Housing Officer I felt as though I'd 'made it'. I couldn't believe it, because I used to look up to the Housing Officers. They were my heroes. I always thought: I'd like to do that job one day and I wondered how I would ever manage to achieve it.
"I was so proud when I did, because being a Housing Officer is quite complex - not everyone has the temperament to do it well. It took me a while. It took some observing, some shadowing… but it also taught me courage, resilience and to believe in myself.
After being on maternity leave, Natalie returned to the Woolwich office where she job shared with a colleague as a Housing Officer.
This part-time arrangement suited Natalie's work-life balance perfectly while her children were still young. When she was successful in her application for a Team Leader role, she began working full-time again in 2012 - initially at Woolwich, later returning to the Lewisham office, where her career with us had first began.
"I'm not someone who has a five-year plan. My managers have always seen something in me I've not seen in myself. When there's been a vacancy, they've encouraged me to 'go for it'. I've always thought that if they believe in me, I can do it."
Six years ago Natalie was appointed Resident Services Manager and she managed a multi-disciplinary team. More recently, since 2017, Natalie was a Tenancy Team Manager. The Tenancy Team manage a variety of complex issues, including hoarding, domestic abuse and tenancy fraud.
A highlight of her working life is engaging with people - both colleagues and residents. "Hyde's changed a lot in the 22 years I've been employed, but for me, whether you work on reception or manage a team, the aim is always the same – to provide the best possible service to customers."
And developing others is one of her passions.  "My managers have always encouraged me to meet my full potential and I do the same for my staff. A number of staff that I have managed have moved on to better roles."
Natalie is a great believer in learning on the job. Secondment has been a common thread in most of her roles, including Team Leader and Resident Services Manager.
"Things like secondments and shadowing are great learning opportunities, giving you the experience and confidence to go for positions you aspire to."
"There are plenty of development opportunities at Hyde if people want to grasp them. I've never known anyone who wanted to better themselves being prevented from doing that… certainly not if they have been performing. They've always been able to progress".