I love that my work is very flexible. I am able to do part of my weekly hours at home which means I am around more for my family.

Nasim Ahmed, Customer Services Officer
Nasim or 'Nas' as she is better known to her colleagues, joined Hyde in 2003 and became a Customer Services Officer in 2012 and hasn't looked back. Nas loves the flexibility, pace and nature of her role.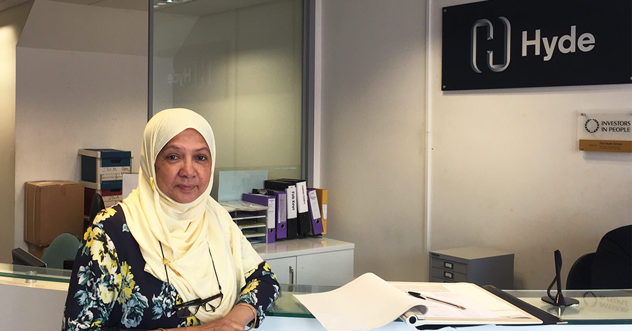 "I am a problem- solver" said Nas. "I love my job because I love talking to people and helping solve their problems."
Nas is able to work at home as well as in the office, and this flexible working arrangement means she has more available time to focus on other aspects of her life.
"I love that my work is very flexible" explained Nas. "I am able to do part of my weekly hours at home and that is such a huge help to me.  At home I have a desk set up and Hyde have provided me with all the tech I need to work properly. Having this flexibility means I am able to help look after my grandchildren, cook more and spend more time with my family."
Of course, dealing with customer complaints and other issues that come through to the customer services team can be very taxing.
"It can be intense being on the phone all day" Nas commented. "The residents are mainly sympathetic, nice residents, but they are calling for an issue and it can be difficult for them and for us. It's really important to keep your work and home life separate.
"Taking breaks is very important and we have regular breaks scheduled in. I often use my breaks for prayer and I have a private place in the office where I can go and pray."
Nasim is also a Union Rep, this along with her job means she is always meeting with and talking to other members of staff.  According to Nas, the people at Hyde are one of  the organisation's best assets:
"The office is very cosmopolitan and has a great community feeling." said Nas. "The people are one of the best things about working here. Hyde is a big family with a big heart."
So what advice does Nas have for anyone looking to start a career in Customer Services at Hyde?
"Come on in!  There's lots of variety here and we all work together – an all-hands-on deck approach! I promise that you'll never be bored."