I knew there would be opportunities for progression; I was more than happy to start at the bottom and work my way up.

Charlie Barnes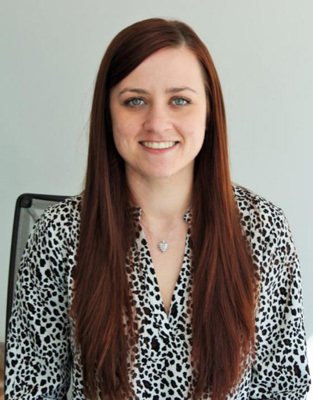 When Charlie Barnes first applied for a position at Hyde she could never have imagined she would be a Construction Project Manager in the organisation's Development department six years later. 
Before she joined, Charlie did some research on Hyde: "I saw it was large organisation… and I thought that if I got in, there would be opportunities for progression as everyone has to start somewhere. I was more than happy to start at the bottom and work my way up. 
"I've had really great opportunities to progress; I started in 2011 and I'm now in my sixth role. I've always maintained that it's a great place to work. You're given every chance to get ahead, if that's what you want; what's great is that they do grow staff from within." 
In a few short years, Charlie has learned so much about Hyde's business, gaining valuable skills by working in three different departments. 
Her first job was 'front-of-house,' as a receptionist at Hyde's Park Street head office. She then became Team Administrator within Hyde New Homes, which sells high quality new homes for shared ownership and private sale. Charlie then moved into the role of Hyde New Homes Re-sales Co-ordinator for shared ownership, followed by Re-Sales Progressor. 
When she started looking for a new challenge, Charlie spotted an ad for a trainee construction project manager. "I didn't think I'd get the role because the competition was so fierce. I was very fortunate though… they must have seen something in me". 
She worked in the trainee position for 18 months before being appointed Construction Project Manager in 2016. 
Charlie finds her current role - where she manages the project team (an external contractor) and project finances, as well as leads on an internal project team - very satisfying. 
"I like the variety of each day. I also enjoy working across so many different teams to deliver projects, as well as with the onsite project team. I've found my niche – I enjoy working in construction. Everyone's so receptive and willing to listen to your opinion." 
Her team has been extremely supportive throughout her journey from trainee to fully fledged project manager. 
"Our team spirit is excellent and we've all got a 'can-do' attitude – we're always asking each other questions. It's great coming to work and knowing you have them on your side." 
Overall, she says her journey with Hyde so far has been amazing: "I've always been impressed with Hyde's 'social heart'; it was one of the reasons I wanted to work for Hyde. I reckoned that if it cared about customers, it would also treat its employees well. I've found this to be the case." 
Charlie believes career opportunities at Hyde are second to none – whether it's training, secondments, shadowing or mentorship: "I've always had encouragement from my managers who have given me the confidence to get out there and achieve my goals." 
She's proud of having passed an intensive project management course with the Association of Project Management and is now looking at studying building surveying. "At Hyde I've learnt that I'm entirely capable of whatever I put my mind to."