I'm privileged to have met the most fabulous people at Hyde, many of whom have worked for the company for years. I think that is testament to what a great company Hyde is!

Atinuke Alder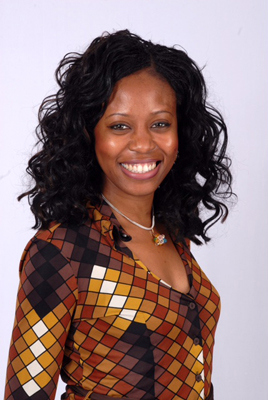 Treasury Securities manager, Atinuke Alder, 'fell into housing' eight years ago when she joined Hyde and has never looked back.   Not only does she 'love her job', Hyde has given her something else… her life partner!
Atinuke, who initially joined Hyde's Customer Services Team, previously worked in banking prior to the financial crisis of 2007/8.
After spending three months in Customer Services, a position became available in Treasury that Atinuke thought 'looked interesting and offered the opportunity to learn new skills' and she was delighted to secure the role of Treasury Officer/Analyst.
She explains (in a nutshell) what she does as Treasury Securities Manager: "I manage Hyde's property collateral across the business so that we can maximise the funds we borrow from banks and other lenders."
Over the years the grants housing associations receive from the government have dwindled. This has meant that in order to develop new homes they have to raise funds (mostly via debt) at the most favourable interest rates.
Atinuke, who has been in this role for three years, says her job is extremely varied as she gets to interact with various parts of the business such as Housing Management, Development, Asset Management, and New Business.
"This gives me a greater appreciation of what we do as a business and how we are fulfilling a great need in our communities by helping to provide a roof over our customers' heads," she explains.
The Treasury Securities team of three is part of the broader Treasury team. "I must mention my manager who is the best in the universe! He's always so supportive and encouraging - one of the main reasons I love working for Hyde."
The rest of her Hyde colleagues also make it easy for Atinuke to wake up each day and head off to work brimming with enthusiasm.
"These people are my friends – we all get on so well and are supportive of each other which I think is invaluable. We're definitely the 'A-team' or, as I like to call my team, my 'office family'!  Most of the time we have a laugh, but even when we need to have serious conversations, it is always done in the most respectful way. What more can you ask for?"
Since returning to work from maternity leave in April last, she has been trying to establish a sensible work-life balance, but admits it not easy, simply because her team has been working hard to keep up with increased demands from the business.
 "I haven't yet got the chance to study for my next Treasury exam, Risk Management, so I'd really like to get to a place where I can have more time to pursue personal goals. But I do enjoy what I do and I'm really fortunate to be able to work from home two days a week."
Atinuke has grown a lot as a person since she's been at Hyde: "In particular, in my capacity to take on more, handle difficult situations and deal with change. I've also gained new skills: I never studied law, but a substantial amount of my work is to do with legal documentation, so I've learnt how to negotiate to get the best value for Hyde. What I do is quite 'niche', but it's just perfect for me."
She believes there are still many more opportunities for her at Hyde: "The Securities Team is expanding to embrace asset management and, as a member of the broader Treasury team, there's still so much for me to learn about core treasury operations."
Atinuke firmly believes that Hyde's greatest asset is its people. "I'm privileged to have met the most fabulous people at Hyde, many of whom have worked for the company for years. I think that is testament to what a great company Hyde is!"
What advice would she give to someone wanting to make a career at Hyde?  "There's so much opportunity here; whatever your skill set is, there's definitely a place at Hyde for you to prosper and grow. Hyde really makes an effort to ensure that its staff progress in their careers whether that is through supporting work placements or sponsorship to gain further qualifications."