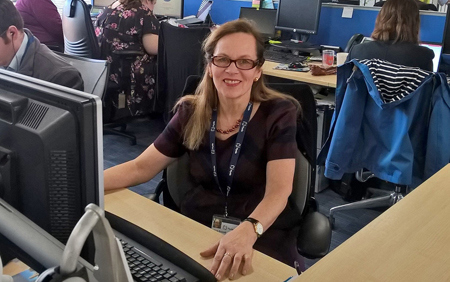 When Compliance Data Administrator, Alison Everett was looking at ideas for career development, she came up with the unusual and some might say, brave idea of secondment to Customer Services at our Chichester office.
Alison had been with Hyde for 9 years and was keen to find out more about the wider business and contribute to making a hands on difference to people's lives. She and her manager decided that an opportunity to work as part of the busy dedicated frontline team handling all sorts of queries from our residents would fit the bill. Alison met with the Manager of Customer Services who said she was welcome to apply for a fixed term position if and when one was advertised, because she felt the team would benefit from Alison's property services experience, and Alison would be able to take back to her Property Services team a better understanding of the challenges of the Customer Service Officer role. Many of our staff began their careers at Hyde in a Customer Service role: "If you look around the business you'll find an ex Customer Service Officer in most places, with a deeper insight into more areas then you might think", says Alison.
Although her time at the "frontline" was challenging at times, Alison found it to be rewarding and empowering and would fully recommend the experience to others.
Returning to her role in Property Services, Alison has gained a greater understanding of Hyde policies and procedures, housing and rent as well as improved relations with colleagues, contractors and partners. "I can appreciate things from a customer service perspective – seeing how their performance is measured to the nth degree is an eye-opener.   I would recommend applying for a secondment in any team to help gain knowledge, increase skills and improve competencies".