Develop new skills, gain a qualification and build a career helping people with our range of apprenticeship opportunities in London and Kent. Applications for this year's apprenticeship scheme closed on Tuesday 4 September 2018. We will be accepting new applications again next year.  
About our apprenticeship scheme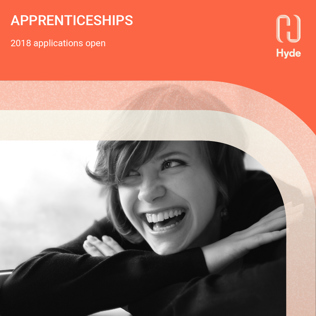 If you join us as an apprentice and you'll help make a lasting difference to people's lives at the heart of our team. Working in one of our offices, you'll learn key skills and begin an exciting career in housing with a supportive, fast-moving team that's regenerating neighborhoods and creating new communities. At the same time, we'll fund your studies for a qualification Level 2 or 3 on an apprenticeship programme that will last between one and two years in either Business Administration, Housing, Customer Service, Human Resources & Digital Marketing.
As well as learning on-the-job, you'll grow your skills in all kinds of ways from jobs swaps and job shadowing to practical skills workshops, a social media project and taking part in quarterly events with our other apprentices.
We're looking for people with plenty of drive, and someone who wants to work hard and learn and advance every day. You'll be the kind of person who'll make the most of all the great support we offer. And who knows? You could join our team in October and show us you've got what it takes to become our next generation of talent.
Are you a parent or carer of someone looking to join our apprenticeship scheme? Visit our Apprentices - advice for parents and carers page.
How will we support you?
Four hours of paid study leave a week and 2 hours with a learning assessor each month
Monthly 1:1 meetings with your Manager and a Programme Manager
Your own Learning Mentor
A Buddy who is a current apprentice and will happily show you the ropes
What perks can you look forward to?
A competitive salary
26 days' holiday
Two paid volunteering days a year
A pension
Flexible benefits such as childcare vouchers/retail discounts
What happens after your apprenticeship?
During your apprenticeship, you'll grow in confidence and gain all kinds of new skills. We can't guarantee you a job when it finishes, but there will be a chance of applying for a full-time role here when you finish. We'll do everything we can to help you get into employment with mock interviews, support from employment advisors and more.
Who are we looking for?
Keen and eager to learn
Aged 16 and over
Not currently in full time education or working full time
Not yet got a degree or Level 4 qualification
At least 5 GCSEs including Maths and English at grades A*-C/Grade 4 and above or equivalent
How do I apply?
Applications for this year's apprenticeship scheme closed on Tuesday 4 September 2018. We will be accepting new applications again next year.  
Need a hand writing your winning application? Check out this handy guide from GOV.UK (PDF, 2.5MB)
What happens next?
This is what you can expect if you're successful at every stage of the recruitment journey:
Online readiness assessment
Telephone interview
Open day for NVQ testing
Selection event with skills and work related assessments.
Key dates
4 September - applications close
W/c 10 September - Open days for NVQ testing
14 September - Skills & work related assessments in London
W/c 22 October - Apprenticeships start with a 2 day induction
24 October - Our new apprentices join their teams